Home » Slot Games »
HIGH RTP SLOTS – SLOTS WITH HIGH RTP RATES
Last Updated: December 2, 2023
Written by Stephen Cummings
This page will explain to you the importance of RTP in slots, as well as show you the top 15 high RTP slots. If you are short on time, we can tell you that Book of 99 is the highest RTP slot with an RTP of 99%.
RTP stands for return to player and is the theoretical amount which a player can expect to receive when playing a slot game. To quickly give you an explanation, Blood Suckers has an RTP of 98%, this means that in theory, for every £100 put into Blood Suckers, you will receive £98 in return. Therefore, the higher the RTP of a slot game, the more you can expect to win.
So, what makes a high RTP online slot? If a slot has an RTP of 97% or above, it can be considered as a slot with a high RTP. The table below showcases our favourite ones. Our list is based on playability, maximum payouts and of course, the return to player rate.
TABLE OF TOP HIGH RTP ONLINE SLOTS
BEST HIGH RTP SLOTS IN 2023
After comparing RTP percentages, we have compiled this list of the best 15 high RTP slot games which you can play at online casinos. Our editor Jean Prince showcases his editors pick for you below:
EDITORS PICK: ESQUELETO EXPLOSIVO BY THUNDERKICK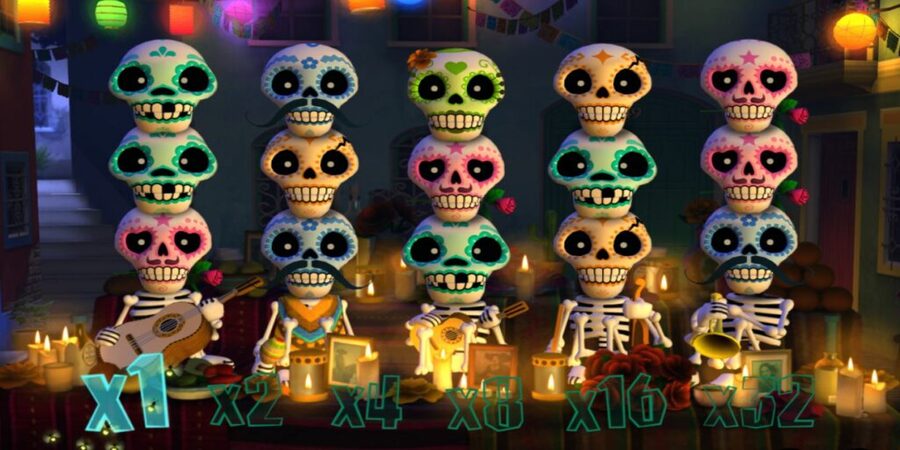 The editor of SlotsHawk has chosen Esqueleto Explosivo as his favourite high RTP slot. His reasons are simple. First of all, it has an RTP of 97.60%, which qualifies it as having a high RTP. Secondly, Jean loves the theme and graphics. He is a fan of all things spooky and macabre which sums up the graphics rather well. Esqueleto Explosivo also has a high payout of up to 700x.
Play at: Hyper Casino
1. BOOK OF 99 (RTP: 99.00%) BY RELAX GAMING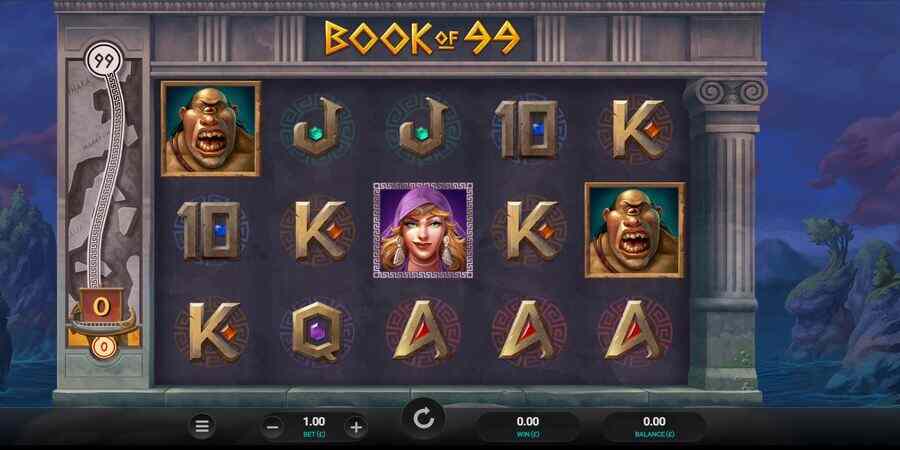 We regard Book of 99 as the best RTP slot in 2023 due to its RTP of 99% and its original and fun theme. With respins, retriggers and, of course, an immensely high return to player percentage, Book of 99 is an exceptional slot game.
Book of 99 also comes with a max payout potential of 5,000x your stake as well as expanding wild symbols and respins. Just be aware that Book of 99 is a high variance slot, so winning spins on the reels may sometimes be few and far between.
Features:
Free spins
Bonus game
Stacked wild symbols
Scatter symbols
Respins
Retriggers
Multipliers
Mobile friendly
Play at: Casumo Casino
2. MONOPOLY BIG EVENT (RTP: 99.00%) BY BARCREST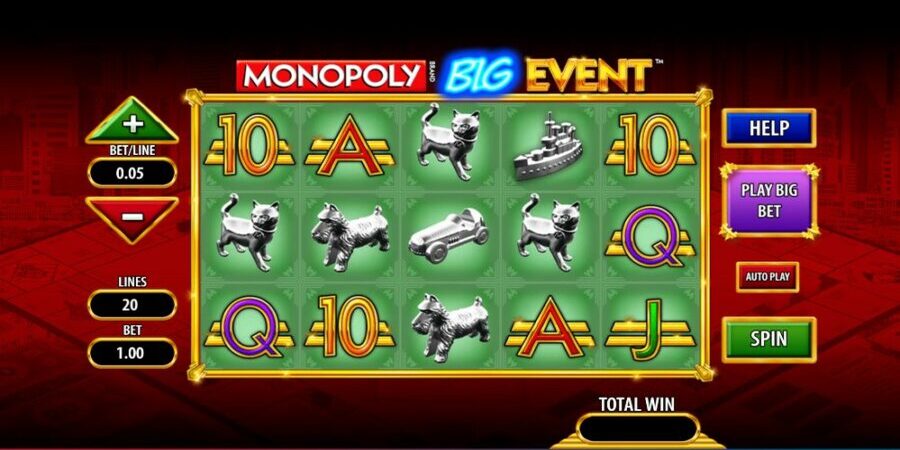 There are many Monopoly slots but Monopoly Big Event is the one with the highest RTP. However, the catch here is that you have to play the game on Big Bet mode to qualify for this RTP.
My recommendation is to play on the normal mode first so you can get used to how the game is played. The Big Bet mode has a house edge of only 1% though, so once you get the hang of playing, you should take advantage of the low house edge high RTP feature.
Features:
Free spins
Bonus game
Progressive multipliers
Wild symbols
Autoplay
Mobile friendly
Play at: Monopoly Casino
3. OOH AAH DRACULA (RTP: 99.00%) BY BARCREST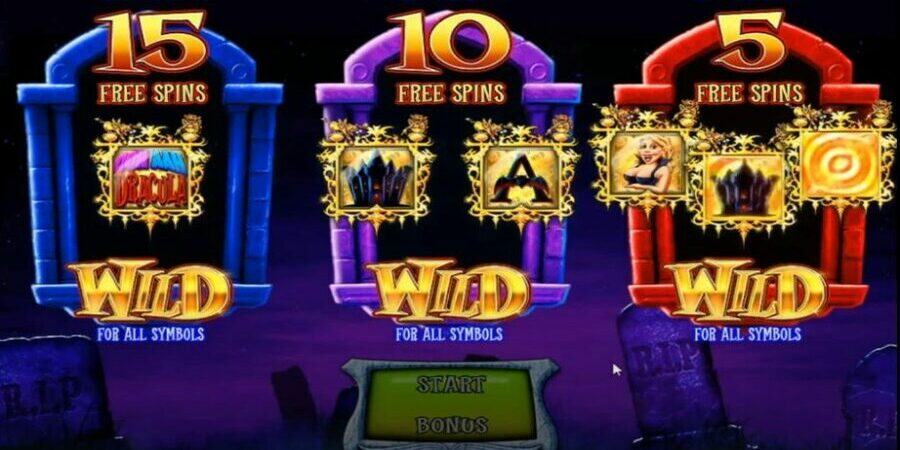 A fun design mixed with a dramatic soundtrack with the added addition of plenty of features, its RTP ensures that Ooh Aah Dracula remains one of my favourite slots to have ever been released!
This slot is played on a 5×3 reel set and is played on 10 paylines with free spins bonuses. Players also have access to WIlds and a pick and click type bonus game. High rollers get to play the high-roller option which triggers 5 spins at the given stake.
Features:
Free spins
Bonus game
Stacked wild symbols
Scatter symbols
Autoplay
Mobile friendly
Play at: Hyper Casino
4. MEGA JOKER (RTP: 99.00%) BY NETENT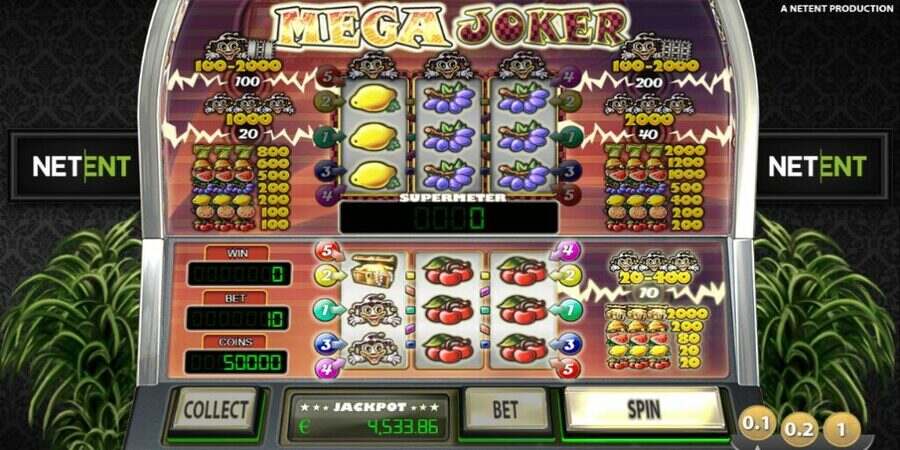 In part due to its easy to use classic fruit machine style and progressive jackpot, the Mega Joker slot from NetEnt has been popular since its release in 2013. Played on 3 reels and 3 rows with 5 paylines, Mega Joker takes its inspiration from classic slot machines.
Mega Joker also attracts players thanks to its progressive jackpot.
Features:
Bonus game
Progressive jackpot
Autoplay
Mobile friendly
Play at: Pub Casino
5. JACKPOT 6000 (RTP: 98.86%) BY NETENT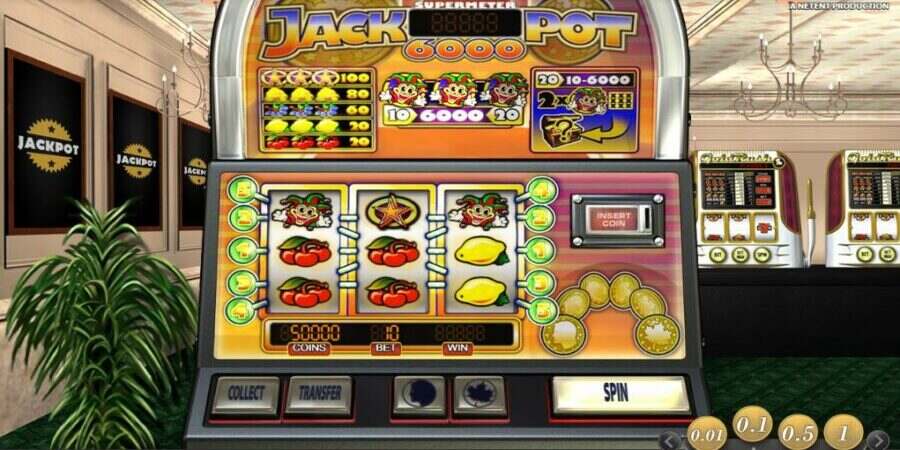 Another RTP slot based on a traditional slot machine, Jackpot 6000 features both the bottom and top parts of a classic fruit machine. You will find traditional slot symbols such as the lemon, a cheery and of course the joker.
This is a high volatility slot, so be careful and don't get carried away. However, thanks to its RTP, when you do hit a win, you should expect it to be a big one!
Features:
Bonus game
Wild symbols
Autoplay
Mobile friendly
Play at: Casumo Casino
6. DR JEKYLL GOES WILD (RTP: 98.20%) BY SCIENTIFIC GAMES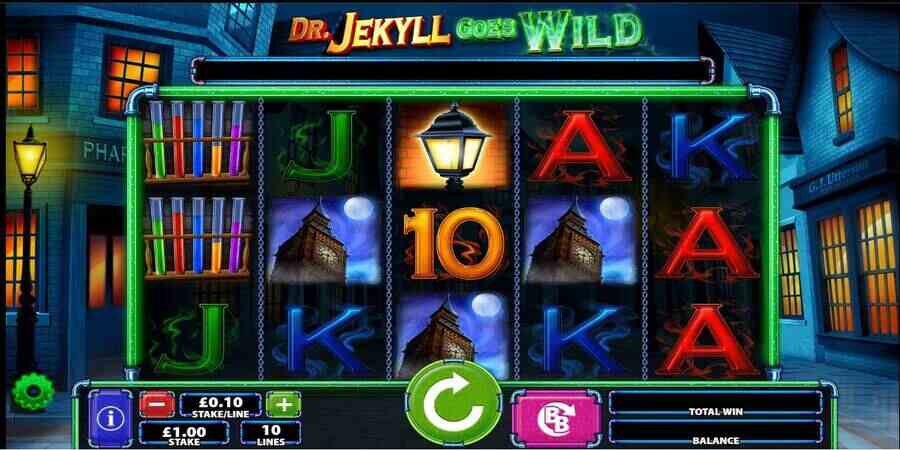 Certainly one of the oldest slots in our expert guide, Dr Jekyll Goes Wild is themed around the mysterious Dr Jekyll. A rather spooky slot game, this one really has stood the test of time as it is still a popular game even now in 2023. The super high RTP of 98.20% can be accessed when you play on Big Bet mode, which is why we recommend Dr Jekyll Goes Wild as the best slot on this list for high rollers.
Despite being an older slot, there are still several nice features here including the opportunity to win up to 75 free spins.
Features:
Free spins
Big Bet mode
Wild symbols
Scatter symbols
Autoplay
Play at: Fun Casino
7. MARCHING LEGIONS (RTP: 98.12%) BY RELAX GAMING
A fun and rather sophisticated Roman themed slot, Marching Legions was released by Relax Gaming in 2020 and comes with a handsome RTP of 98.12%. The 3D design really makes Marching Legions stand out from the rest. In fact, I think that this is probably one of the most appealing slots out there.
There are plenty of great slot features here too including repsins and a Nudge feature. As well as the superior RTP, there is also a maximum potential payout of 10,000x. Marching Legions is also a high variance slot with an average hit rate of 25.62% – you'll trigger a winning spin 1 in every 4 spins.
Features:
Bonus game
Free spins
Respins
Nudge feature
Stack
Autoplay
Play at: Casumo Casino
8. THE CATFATHER (RTP: 98.10%) BY PRAGMATIC PLAY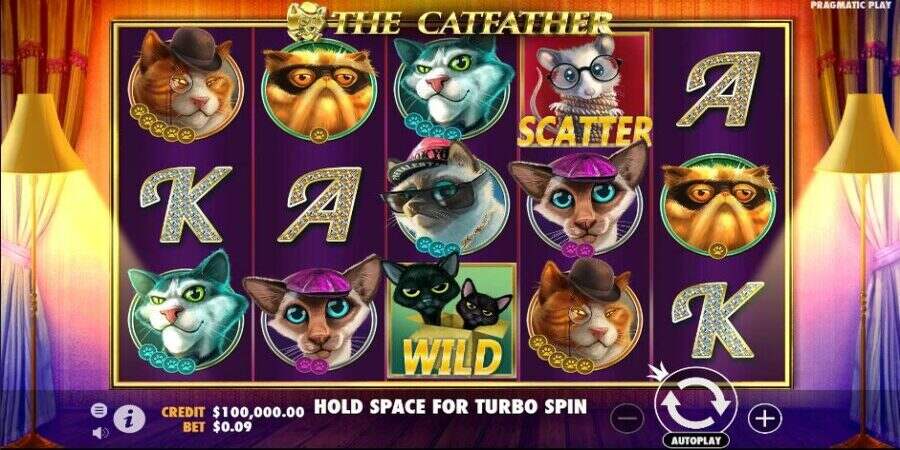 If you are a cat love then this is the slot for you! This highly original slot from Pragmatic Play features a variety of cats which act as the slot symbols.
Along with the great RTP percentage this slot also features a free spins round, win multipliers and stacked wild symbols. This is a cracking game to play.
Features:
Free spins
Bonus game
Multipliers
Scatter symbols
Wild symbols
Autoplay
Mobile friendly
Play at: All British Casino
9. TORO WILDS REEL (98.03%) BY SYNOT GAMES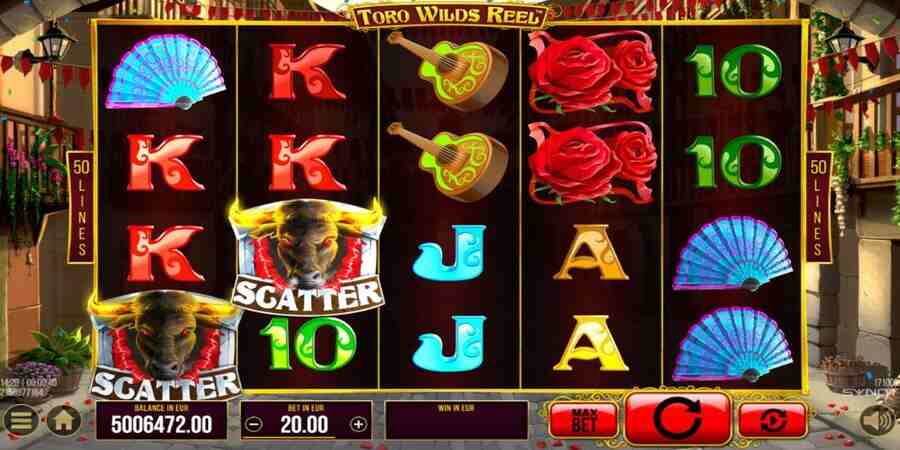 Released by Synot Games in 2023, Toro Wilds Reel slot is themed around all things Spanish and has an RTP of 98.03%. Latino music plays in the background whilst you spin the reels on its 5×3 grid with 50 paylines. We would like to remind you that this game is a medium variance slot, so you should see a mixture of smaller and bigger wins.
One of the reasons we have included Toro Wilds Reel on this list is because of its unique theme as well as its features which include a fun bull themed bonus game which gives the opportunity of free spins. One of the downsides to this one is its ack of features, there are no respins or cascading reels etc which is rather disappointing given this is a new slot game.
Features in Toro Wilds Reel:
Free spins
Bonus game
Wild symbols
Scatter symbols
Multipliers
Play at: BetFred Casino
10. BLOOD SUCKERS (RTP: 98.00%) BY NETENT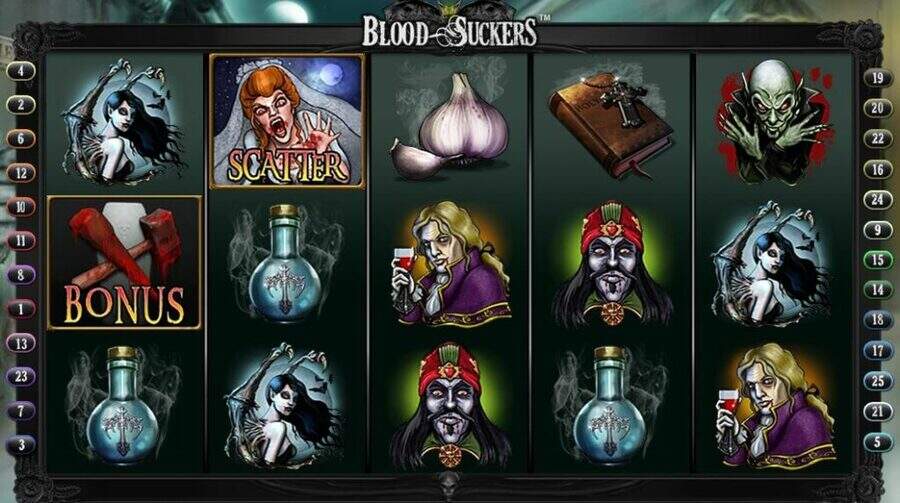 Blood Suckers is the second vampire themed slot to make our list of the top RTP slots. This NetEnt slot has plenty of modern slot features including Scatters, Wilds and Bonus symbols.
Blood Suckers is a low volatility slot but comes highly recommended due to its RTP and the fun it allows players.
Features:
Free spins
Bonus game
Scatter symbols
Wild symbols
Autoplay
Mobile friendly
Play at: Playzee Casino
11. RAINBOW RICHES PICK N MIX (RTP: 98.00%) BY BARCREST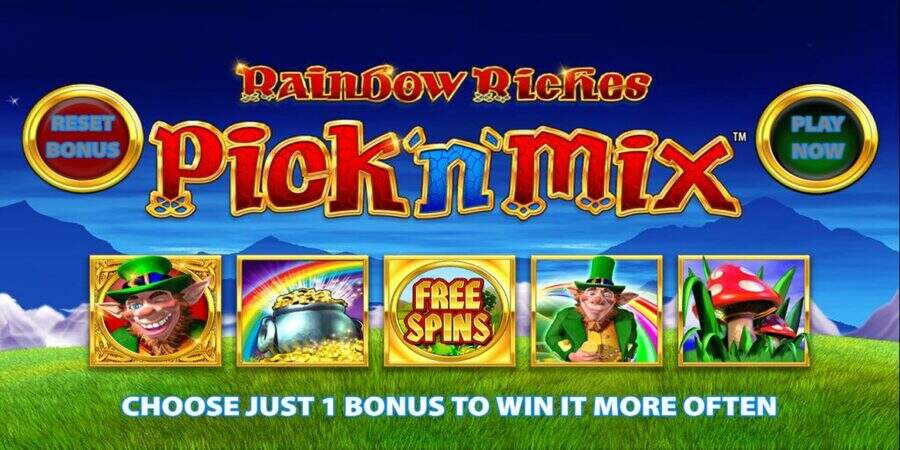 Easily one of the most popular slots from the Rainbow Riches collection, Rainbow Riches Pick N Mix comes with an RTP of 98%. A great feature of this game is that it allows you to choose between one of three bonus features before each spin. The one you pick will featuring during your rounds.
However, to play this slot with the RTP of 98%, you must use the games Big Bet feature. Again, I recommend you to play the game and get used to the setup before you decide to utilise its Big Bet feature and take advantage of the RTP percentage.
Features:
Free spins
Bonus game
Multipliers
Scatter symbols
Autoplay
Mobile friendly
Play at: Rainbow Riches Casino
12. WHITE RABBIT MEGAWAYS (RTP: 97.77%) BY BIG TIME GAMING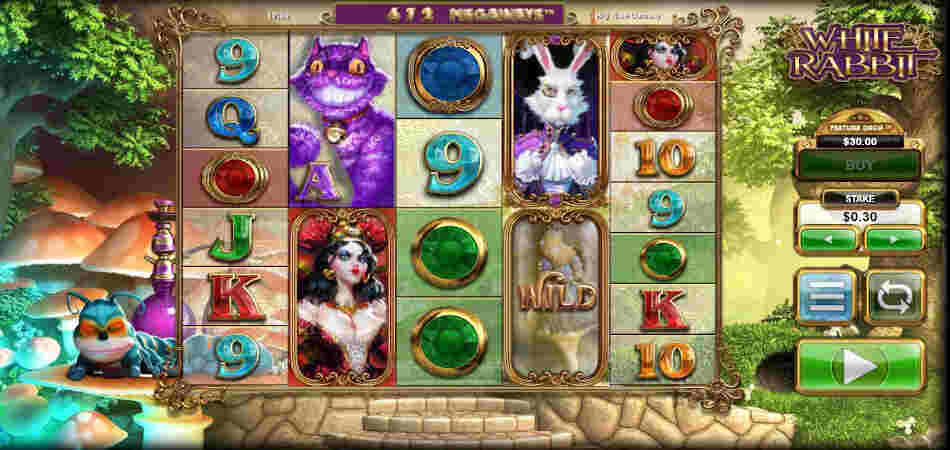 The Megaways feature ensures that you will get 248,832 ways to win in this fantastic Megaways high RTP slot game. This slot has been inspired by Alice in Wonderland and comes with truly unique and fantastic graphics.
This high RTP slot is one of our favourites and has a whole lot to give casino players. With a whole host of special slot features, we are sure you will love this game.
Features:
Free spins
Bonus game
Wild Symbols
Cascading Reels
Multipliers
Scatter symbols
Autoplay
Mobile friendly
Play at: Casumo Casino
13. BLOOD SUCKERS MEGAWAYS (RTP: 97.66%) BY RED TIGER GAMING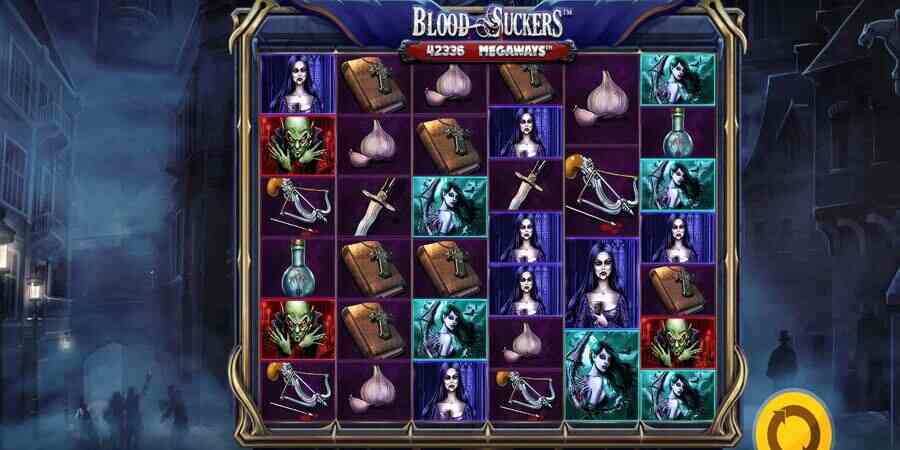 One of the top online slot releases of 2023 thanks to its high RTP, large max payout and amazing gameplay, Blood Suckers Megaways is one of Red Tiger's best releases in a long time. The original Blood Suckers slot has long been one of the most popular ever and this Megaways version does exactly what was expected, modernises the original and makes it even more exciting.
Blood Suckers Megaway is a high volatility Megaways slot with Super wilds, Scatter wilds and a unique Coffins feature. Unsurprisingly, this slot which has an RTP of 97.66% is widely available at UK online casinos.
Features:
Feature coffins
Free spins
Random Wilds
Super wilds
Bonus scatters
Win multipliers
Mobiel friendly
Play at: Mr Rex Casino
14. MEDUSA MEGAWAYS (RTP: 97.63%) BY NEXTGEN GAMING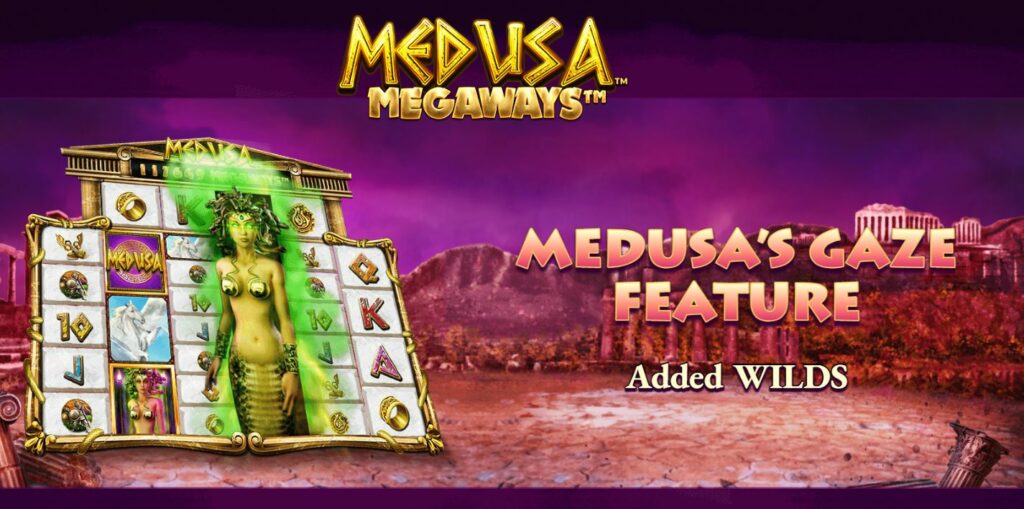 Widely regarded as one of the top Megaways slots ever, Medusa Megaways from NextGen Gaming is themed around the scary Gorgon monster Medusa. There are plenty of features in this one which is one of the reasons for its popularity. Cascading reels and unlimited paylines are definitely an advantage as they will hep activate both large multipliers and good potential wins. The theme is also fun, and you will be constantly joined by the gaze of Medusa whilst you spin the reels.
The added bonus of an above average RTP and huge maximum potential win of 50,000x the wager is also incredibly appealing to most online slots players.
Features:
Free spins
Bonus Game
Multipliers
Scatter symbols
Wild symbols
Cascading reels
Unlimited paylines
Play at: Hyper Casino
15. GOBLINS AND GEMSTONES (RTP: 97.10%) BY KALAMBA GAMES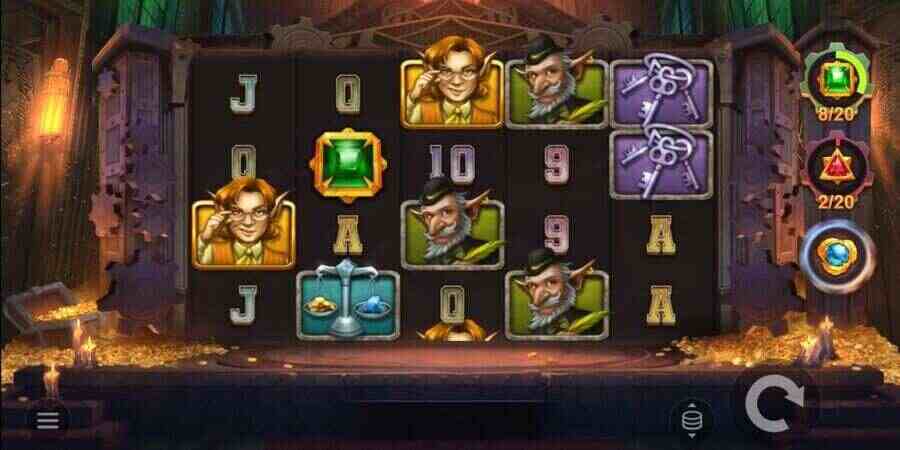 A quirky high RTP slot machine by Kalamba Games, Goblins and Gemstones is an ideal game for any punters who enjoy playing a slot with a fun theme. Released in 2021, Goblins and Gemstones comes complete with a variety of modern features turbo spin mode and paired reels which enable players the opportunity to hit bigger payouts. Incidentally, the maximum payout of this one is 38,800x the bet.
We really love the slot theme of Goblins and Gemstones, it helps to ensure a pleasurable experience, even if you are not hitting regular wins. The return to player ratio of 97.10% also means that your return on investment should be above average.
Features:
Free spins
Scatter split
Paired reels
Expand 'N' Luck
Wild symbols
Multipliers
Turbo spin mode
Play at: Slotnite Casino
EXPLAINING HIGH RTP SLOT GAMES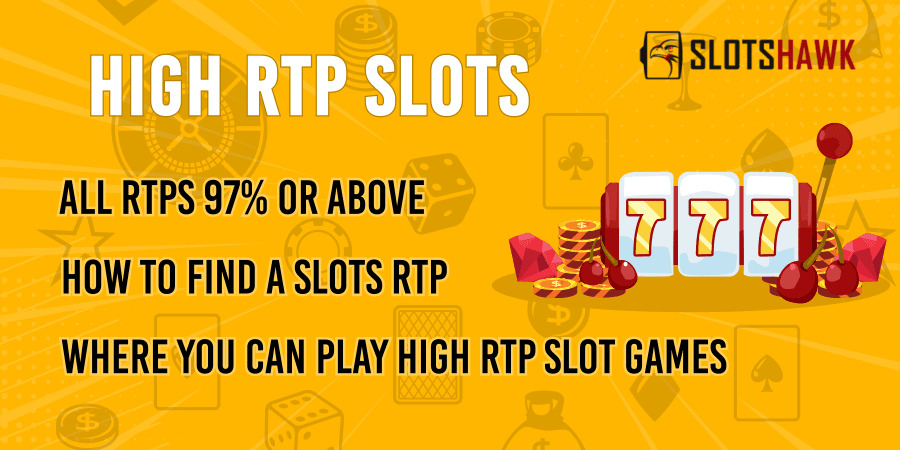 The Return To Player value of a slot game determines, in theory, the amount you can expect to lose when playing a particular slot.
RTP is not the same as payout. A slots maximum payout determines how much can potentially be won. Whereas the RTP is an indication of how much money you will receive over a long period of time.
You should think of RTP is a House Edge but in reverse. Here's an example: Ooh Aah Dracula by Barcrest has an incredibly large RTP of 99.00%. The 'house edge' will therefore be 1% and the player will get back 99% of their wager.
Still not clear enough? Let's have a look at a second example: Book of Dead by Play N Go has an RTP of 96.21%. This will give the house an edge of 3.79% over the player. Theoretically, the player will be returned 96.21% of what they wager.
In reality, how much you win when playing online slot machines depends just as much on luck as it does which slot you play. Just because Book of Dead has an RTP of 96.21% does not mean that for every £100 you wager you will win back £96.21. This is just a theoretical assumption. If such certainty existed, slot machines gambling would not be much fun!
RTP is a long term calculation. Furthermore, slot games use Random Number Generator (RNG) technology which ensures they are completely random.
It is useful to remember that the RTP is the opposite of the house edge. If you see a house edge of 4%, it means that the RTP is 96%. This means that the casino is making £4.00 on every £100 wagered in the long run.
THE IMPORTANCE OF A SLOTS RTP
If your plan is to play slots on a regular basis, it is a big advantage to be aware of the RTP of the slots you decide to play. However, there are also other factors you should be aware of too.
For example, a slots volatility level determines how often wins are triggered. A high volatility slot will trigger wins less often in comparison to a slot with low volatility. However, slots with higher volatility levels will trigger larger payouts.
IS THERE A DIFFERENCE BETWEEN RTP AND PAYOUT
Yes, there are several differences between RTP and payout. The main difference being that a slots payout is based on the maximum any individual slot game can payout. For example, the slots with the highest payouts can payout wins of up to 125,000 times the bet. Whereas RTP is based on the average amount which a player can win on a slot over millions of spins.
Payout and RTP are two different aspects of a slot machine and should be considered different from one another.
ADVANTAGES AND DISADVANTAGES OF HIGH RTP SLOTS
Despite being rated among the best slots to play, even slots with high RTP's still come with advantages and disadvantages.
Advantages of high RTP slot games:
Can be more rewarding in the long run
Plenty to choose from
Widely available
Disadvantages of high RTP slot games:
Some lack the best features
All casino games have pros and cons, you should consider how much fun you are having as the most important aspect. When playing high RTP slots, you should always take your bankroll into consideration.
NEW HIGH RTP SLOTS
All of the slot games below can be played at online casinos in the UK.
WHERE TO PLAY HIGH RTP SLOTS
We are here to help you find the best online casinos and slot sites where you can play slots with high RTP's. Below, we have picked out four online casinos for UK players which have a good selection of these slots:
Casumo Casino – With over 1,000 online slots available, Casumo has quickly become one of the top online casinos sites for UK players. Play a variety of high RTP slots at Casumo.
Luckster Casino – An up and coming casino operator, Luckster is renowned for its top quality customer service and casino games. This casino also stocks lots of online slots, several of which can be found on this page.
All British Casino – Catering to UK players only, All British Casino is seen as one of the best casinos operating in the UK in 2023.
Mr Rex Casino – One of the newest slot sites on our website, Mr Rex is an up and coming online casino specialising in slot games. You can play several of the high RTP slots featured on this page at MrRex casino.
IS IT POSSIBLE TO PLAY HIGH RTP SLOTS ON A SMARPTHONE?
Yes, all of the high RTP slot games on this page can be played on a smartphone device. In fact, slots developers ensure that all of their slot games are accessible to mobile slots players. Why? Because over 50% of online slots players play via their mobile phones.
Therefore, slots are created and designed with mobile gamers in mind. All of the slot machines on this page can also be played via a tablet device.
FAQS
CONTRIBUTORS