Home » Slot Sites »
MOBILE SLOT SITES
Discover the best mobile slots in the UK! SlotsHawk helps you to choose the best mobile slot sites and brings to you the definitive list of the best places to play online slots on your mobile phone.
Access your favourite slots anywhere thanks to mobile slot sites. The advancement of mobile technology means that slot games look and feel the same on a mobile phone as they do on laptop or desktop computer.
The demand for mobile gaming continues to grow and to keep up with this trend, slot developers and slot sites ensure that their slot games and casinos are 100% mobile compatible.
Mobile slots have quickly become one of the most popular casino games due to the ease in which slots players can access them.
No matter where you are, you will always have entertainment at your fingertips thanks to your mobile phone and mobile casinos.
THE BEST MOBILE SLOTS SITES IN 2023
WHICH ARE THE BEST MOBILE SLOT SITES?
The best mobile slot sites in the UK are:
Casumo Casino – 1000+ mobile slots
Skol Casino – 1000+ Mobile slots
All British Casino – 700+ mobile slots
Hyper Casino – 700+ mobile slots
Virgin Games – 200+ mobile lots
These are the five highest rated mobile slot sites by our analyst Stephen Cummings. Stephen has been reviewing and analysing casino, bingo and slot games for years and these were his top picks.
WHY ARE THESE MOBILE CASINO SITES RATED HIGH?
These mobile sites are rated high because they offer a wide variety of mobile slots games on safe and user-friendly casino platforms – available to all UK players.
They also give you the chance to play mobile slots in demo mode. This means you areable to have unlimited practice without risking any of your own money.
If you then decide to make a deposit at one of these sites, they will also give you a little extra money to play with as a bonus.
TOP 10 MOBILE SLOTS TO PLAY ON YOUR MOBILE PHONE IN 2023
There are hundreds of mobile slots available to be played at UK online casinos. We have tried and tested them all and have compiled a top 10 list of the best mobile slots which you can find below:
NEW MOBILE SLOT SITES
Four new mobile slot sites include Yako Casino, Hyper Casino, PlayOJO casino and No Bonus casino. These are the latest mobile slot sites we have added at Slotshawk.com.
Due to the fact that most newly launched casinos aim at mobile users, he vast majority of new sites launched in 2023 will be available for mobile gameplay.
For this reason, it will often be the case that mobile sites will be very similar to new slot sites. For example, a brand new slot site will almost certainly offer a state-of-the-art mobile platform for its users.
HOW WE REVIEW THE TOP MOBILE SLOTS ONLINE
It is our pride and joy to give our readers everything they need to know regarding mobile slot reviews. We never base our reviews on what others say, instead we ensure that we test out each individual slot game and all mobile slot sites so that we can give you the full truth regarding mobile slots and slot sites.
All casinos are different and the past decade has witnessed an avalanche of online casinos being launched in the UK. The standards that are set have never been higher and online casinos fight one another to attract new players.
It is no easy job to review the thousands of different online slots out there. However, we have a large team here at SlotsHawk who make it their mission to spend as much time as possible playing and reviewing as many slot games as possible. As of 2023, almost 99% of slot games can be played on your smartphone device and over 50% of online casino players choose to play via their mobile phones.
We have set up a dedicated team committed to working only on mobile casinos. The team has decades of experience working within the iGaming industry and are the best online slots review team.
A key area we look into is the playability and usability of online casinos on different mobile devices. Modern smartphones come in lots of shapes and sizes so for a mobile casino to be labelled as the best, it must pass stringent tests on many different handheld devices.
All of the mobile casinos on this page have been tested on Apple, Samsung, Huawei, Google, Nokia and Motorola devices. The development of HTML 5 technology means that almost all online slots and casino games can be played on mobile phones. Of course, the technology behind some casinos is a lot better than others. We will let you know which online casinos have been able to implement HTML 5 tech in the best way.
Due to the ever changing mobile casino and mobile slots environment, this guide will be updated regularly. We highly recommend bookmarking this page so that you can keep up-to-date with the mobile slots industry.
A GUIDE TO PLAYING SLOTS AT MOBILE CASINOS
There are two ways to play mobile slots. The first and most common way is via the web directly using your handheld devices browser.
The second way you can play new mobile slots is via a free downloadable app. Most players access the best mobile slots using their mobile phone's browser. This is both efficient and convenient as you can log in and out of your casino account in the same way you would if you were using a laptop.
Playing new mobile slots via your browser does not impact your phone's memory as you are not required to download anything.
We recommend playing over a wi-fi connection where possible so that your connection is as stable as possible. You do not want to be on the verge of a huge jackpot only to be told that your internet connection has been lost.
The alternative method to playing slots on your mobile is via an app. To play using this method you must register and play at a mobile casino which has released its own dedicated mobile app.
Most casinos have not released their own app yet as their system is entirely web based. But a large number of mobile casinos we promote do offer their games via Android and iOS apps.
Apple users can download the best casino slot apps via the Apple iStore whilst Android users must use the Google Play Store to download a casino app.
PLAY MOBILE SLOTS ANYTIME AND ANY PLACE
The advancement of mobile technology meant the evolution of mobile slot games.

"The number of casino players playing online slot games via their mobile phone devices has now surpassed desktop users."

– Jean B. Prince, Editor in Chief.
Due to the demand, slot developers now build online slots from a mobile first perspective. This means that the newest slot games are developed for mobile users. In the UK, over 90% of the population have access to a modern smartphone device. Mobile phones have made our lives much easier as we can now access the internet from wherever we are in the world. The evolution of mobile casinos has allowed UK gamblers the possibility to play online casino games using a mobile phone.
Online slots are by far the most popular casino game and the advent of mobile casinos has increased their popularity even more. Online casinos now cater to mobile gamblers first, ahead of gamblers playing on their desktops or laptops. Mobile casino players now outrank all other users.
HELPING YOU TO FIND THE BEST MOBILE CASINOS
Some mobile casinos are better than others.
It is always worth your time to do some research about the slot site you are about to play on. Fortunately, we have done this researc so that you don't have to.
When comparing, we have a list of criteria which we mark each slot site on.
Mobile and tablet friendly – The top mobile casinos are built to be mobile friendly. It is not uncommon for some excellent online casinos to be rather average on a mobile platform. When compiling a list of the best UK mobile casino sites, we ensure to test all a casino's products, including their mobile slots which must be tailored to be played on mobile devices. The best sites offer great gaming experiences regardless of whether you are playing on your desktop computer, mobile phone or iPad.
A wide range of mobile slot games – The best mobile slot sites will offer you thousands of slots to play from multiple software providers. We only showcase mobile casino sites which give you access to a variety of mobile slots such as jackpot slots, high and low variance slots and classic slots.
Licensed and regulated – In order for UK players to play the best UK mobile slots games, they have to play at sites regulated by the UKGC. The mobile casinos on this page are all licensed and regulated by the UK Gambling Commission.
Bonus offers for smartphone users – Where possible, we promote online mobile casinos which give slots bonuses to slots players. Bonuses are likely to be in the form of free spins upon your first deposit.
HOW TO PLAY MOBILE SLOTS ON-THE-GO
Ready to play slots on-the-go? Just follow the helpful steps below to begin your mobile casino journey.
Step 1 – Ensure your connection is secure
You are required to have a 3G connection at the absolute minimum. Ideally, you should have a 4G, 5G or a stable WiFi internet connection to guarantee the best possible casino experience.
Step 2 – Choose a mobile slot site to play at
You should now choose whether you want to play via your phone's web browser or via a dedicated slot site app. Please note that not all online casinos have their own dedicated apps.
Step 3 – Register an account and log in
Before you can play at a mobile casino, you first need to register an account. This is usually a straightforward process that simply requires you to identify yourself and confirm that you are legally allowed to gamble.
Step 4 – Make a deposit into your new casino account
To play games for real money, you need to have real money in your casino account. There are lots of ways in which you can fund your account. Casino banking methods include Debit Cards, bank transfers, eWallets like PayPal and Skrill, mobile specific methods such as Apple Pay, Google Pay, pay by phone bill, Revolut and paysafecard.
You can also use this stage to play with any casino bonuses you may have been given upon registering your new casino account. Do not forget, most bonuses are released upon your first real money deposit.
At this point you are ready to begin playing the best mobile slots. Whichever mobile casino you sign up with, you will be spoilt for choice by the amount of games on offer.
With so many slot games to choose from, it can be intimidating. Our advice would be to pick a low variance slot game to get you started. These games are low risk and will help you get used to the casino.
TYPES OF MOBILE SLOTS
The choice of online slots to play is better than it has ever been. Updates in technology has allowed slot developers to produce world class slot games which get better every year. Modern mobile slots now come with state of the art graphics, incredible features as well as high payouts.
Although you can play all of the top classic slots via your mobile phone, there are now several types of mobile slots which we have highlighted for you.
VIDEO SLOTS
By far the most widespread and popular of all online slots are video slots which have taken all of the attributes of classic slot games and made them a whole lot more exciting. Modern technology has meant that video slots are full of unique features such as huge payouts, multiple paylines, multipliers, bonus games and storylines.
The advent of modern video slots allowed the online casino industry to really take off, as they improved classic slot games ten fold. Some great examples of developers producing modern video slots include NextGen Gaming, IGT and Gamesys.
PROGRESSIVE JACKPOT SLOTS
Modern tech has meant that you are now able to play progressive jackpot slots on your mobile. Also known as jackpot slots, these games allow you to win potentially millions of pounds from a single spin. Jackpot slots are a feature of nearly all mobile casinos, all of which are progressive. As players play the slot, the jackpot builds up as a certain percentage of each bet goes into the jackpot. Every so often, the entire jackpot is triggered by one lucky player.
Some well known jackpot slots include Mega Moolah (Microgaming) and Jackpot Giant (Playtech).
MEGAWAYS SLOTS
Megaways slots are among the most exciting online games of all time and are regarded as the most widely played slots on the market. Offering over 100,000 paylines, these slots were created using a technology called Megaways which allows for flexible rows.
Megaways games feature avalanche reels which allow unlimited wins whilst most Megaways slots guarantee a potential payout value of above 15,000x.
BRANDED SLOTS
Usually featuring the top music and graphics, branded slots can be based on movies, TV shows or anything already famous and well known. Some example of branded slots include The Mummy slot and Gordon Ramsey's Hell Kitchen slot. These games feature elements from the original with their unique selling point being they are based on something players have probably already seen before.
Branded slots are also known as 3D slots and often revolve around storylines which make for thrilling experiences. Additionally, branded slots are deigned to be played on mobile and handheld devices.
CLASSIC SLOTS
Despite being somewhat outdated, classic slots remain popular and can be found at most online casinos. These games are usually the most simple to play; fruit machines and one armed bandits are called classic slots.
These slots are quick and easy to play and despite their age, are still fun to play online.
NEW MOBILE SLOTS
Due to the increasing number of online casino players playing slots via their mobile devices, slot developers are now designing and developing slots on a mobile first basis. This means that, for the slots developers, it is more important that the slot works perfectly on a mobile phone than it does on a desktop.
Of course, the best new mobile slots will work perfectly on all devices. But as of 2023, new mobile slots rank as some of the most inventive and exciting games to have ever been developed.
Here is our top 5 list of the best new mobile slots in 2023:
Hell's Kitchen
Divine Fortune Megaways
Golden Pepper
Golden Hall Infinity Reels
Hammer of Gods
Play each of the mobile slots above by signing up to one of our new slot sites.
THE BEST MOBILE DEVICES FOR ACCESSING MOBILE SLOT SITES
You can access online casinos using almost any modern mobile phone or tablet.
Mobile phone technology has advanced leaps and bounds in the past 20 years. Modern smartphones can run online slot machines in the same quality as desktops.
Here are the best smartphone devices for playing mobile slot games in 2023:
ANDROID
Samsung – Samsung phones are one of the very best choices for players looking to play at mobile casino sites. Samsung Galaxy devices are our top picks.
Google – Take the Google Pixel 4 as it is a very nice smartphone and a fantastic device for mobile gaming.
Huawei – Huawei phones are a great option for playing mobile casino games. Huawei devices are cheaper than some of their competitors too so they make for a great budget option.
APPLE
iPhone – The Apple iPhone is the top option for players looking to play mobile slot games. We recommend picking models from the iPhone 6 and above. You also need to ensure that you have the latest version of iOS installed on your device, this way you will get the top mobile slots gameplay experience. If you can, try to get a 5G internet connection too.
iPad – The larger screen ensures that iPads are another fantastic option for handheld casino gameplay. The experience of playing at mobile casino is enhanced when you play on a bigger screen.
OTHER DEVICES
Apple and Android devices are the most popular. There are lots of other devices that can be used to playing mobile slot games online including:
Blackberry
Sony
Nokia
Motorola
Windows
UK SLOTS APPS
In 2023, there are plenty of mobile casinos which have created their own apps which are completely free to download. These apps allow an ease of access to their host casinos which the SlotsHawk team recommend.
If you would like to learn more about downloadable slot apps, please see our guide to the best UK slots apps in 2023.
MOBILE SLOTS GRAPHIC REQUIREMENTS
New slot games are built on the high tech HTML5 platform which makes them accessible on all modern smartphones and tablets.
Devices which run on iOS, Android, Windows and Blackberry operating systems are advanced enough to be able to access mobile slot games.
To ensure your gaming experience is as smooth as possible, we suggest that you update your device to the latest version of its operating system.
Don't forget that if your device is overrun by apps and music or photos, this may have an impact on the speed of the slot game you are trying to play. The processing power is key and too many open apps may result in slower gameplay.
Some older mobile phones will still play slot games. However, the graphics will either by less optimal or the framerate will negatively affect your gaming experience.
FREE MOBILE SLOTS
Many online casinos allow you to play slots for free before you begin playing for real money. This is great news as it allows you to practice and get to know the ins and the outs of the game before you risk your own cash.
If you are new to casino games or mobile slots, we recommend playing for free first so that you can see how a game functions and test all of the features and bonus games.
However, UK players are no longer able to access this feature. The UK Gambling Commission now prohibits UK players from playing free mobile slot games to help prevent problem gambling.
MOBILE SLOTS VERSUS DESKTOP SLOTS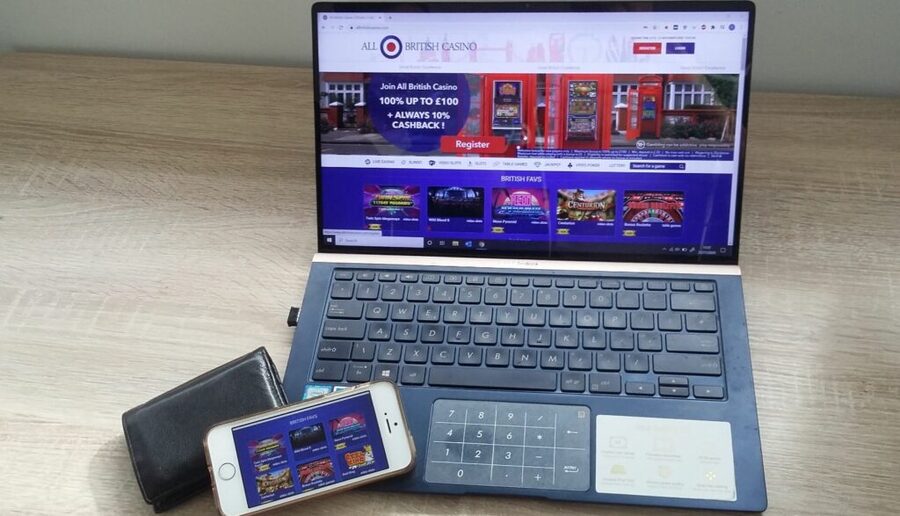 The last decade has witnessed significant improvements in mobile technology thanks to the HTML5 platform. Mobile devices are now powerful enough to rival desktop computers. This means online mobile slots have become much more accessible to online casino players.
The quality of web-based gameplay has improved outstandingly to the extent that slot developers now produce games specifically for mobile play.
Whether you play at online casinos on your mobile or on your desktop, there is no discernible difference that we can see between the quality of gameplay.
So, what other factors come into consideration when choosing whether to play slots on mobile or desktop?
One obvious factor is that you can play new mobile slots and mobile casino slots no matter where you are, as long as you have your mobile device handy and a secure internet connection.
The only drawback is that you might struggle to play classic 3-reel slot games on your mobile as those games were developed by HTML5 technology.
PLAY MOBILE SLOTS TODAY AND FIND THE BEST MOBILE SLOTS SITES
Once you feel confident that you have completed all of the research necessary regarding the best mobile slots, you are now able to play for real money. We recommend that you begin slow and steady, bet small amounts so that you can figure out how the game plays. Make sure to pick a mobile casino which offers you a good and fair bonus too. Ideally, you should pick a casino site which offers its own mobile app. Check out the best slots sites to find your dream mobile casino.
Don't forget, you are free to come back and visit this SlotsHawk guide. If you have any questions regarding mobile slots or casinos, please contact us and we will answer whatever you need to know.
MOBILE SLOTS FAQS
1. Are slot games mobile friendly?
Most slot games can be played on your mobile phone and all new slot games are built specifically to be played on mobile and tablet devices. The only slots which are not mobile friendly are those which were developed before the implementation of HTML5 technology. Slots developed using this technology are 100% mobile friendly.

2. What are mobile slots?
Mobile slots are online slot games designed to be played on your mobile or tablet device. Online slots use HTML 5 technology so they can run smoothly on your handheld device.

3. Can I play mobile slots and use pay by phone bill?
Yes, you can depending on the casino you choose to play at. If the casino accepts pay by phone bill as a deposit method, then you can play mobile slots using pay by phone bill as a deposit method.

4. Is a mobile casino the same as an online casino?
Yes, most online casino websites are accessible by your mobile phone. The term mobile casino is used simply because it means you can access the casino lobby and games via your mobile device.

5. How do I choose the best mobile slot site?
You should choose a mobile slot site that you like the look and feel of. The best way to do this is by checking out the reviews on SlotsHawk. Our slot site reviews are written by casino experts who will inform you of everything you need to know.

6. Is it safe to play mobile slots in the UK?
Mobile slots in the UK are safe to play if you play at a UKGC regulated slot site. If you are looking for a mobile slot site to play at, all of the best mobile casinos listed on SlotsHawk are 100% safe and regulated.

7. What makes mobile slots so popular?
Mobile slots are popular because they offer convenience. Playing slot games on your phone means that they can be accessed anywhere as long as you have a stable internet connection.

8. Do I need to install an app to play at mobile slot sites?
The short answer is no, you don't. Although some mobile slot sites have dedicated apps which their players can download, all mobile slot sites can be accessed via your phone's internet browser.

9. Do mobile slot sites offer bonuses?
All mobile slot sites offer their new players slot bonuses whilst some mobile slot sites give bonuses to players that sign up via a mobile device.

10. Can I play on mobile slot sites and games on my tablet?
Yes, you can! Tablet devices are ideal for playing mobile slots.
CONTRIBUTORS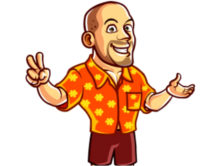 Greetings, I'm Jean Prince
Jean Prince, also known as 'The Hawk' in our newsroom is the editor in chief at SlotsHawk.com. He always keeps a hawk eye on the slots market and never lets anything important slip out of his sight.
Editor in Chief since 2020