Written by Yvonne Greenwood | Expected reading time 5 min
THE SLOTSHAWK A-Z GLOSSARY FOR ONLINE SLOTS TERMS
Welcome to our slots glossary! This is your go too guide for any slot related terms you may be unsure about. I have written about slot games and casinos for the past five years of my life and even I still come across slot terms which I am forced to double check the meaning of!
This alphabet guide to online slots terms should give you the vital information you need and help you on your journey to becoming a slot machine master. Enjoy!
A is for… Auto Play – This is a feature that is included in most online slots. The Auto Play feature allows the slot player to sit back and relax whilst the machine takes care of little details like spinning the reels! Players can set the Auto Play function to spin a certain number of times or until a certain amount of money is won or lost.
B is for… Bonus Rounds – What does every slot player love? Bonus Rounds, of course! When playing most video slots, the aim is to trigger the Bonus Round, or Rounds if there is more than one. It is in the Bonus Round's where the big wins and jackpots are usually won. Triggering an online slots Bonus Round usually requires time and patience.
C is for… Classic Slots – Once upon a time, the Classic online slot machines we all know today were at the top end of slots development technology. Classic Slots are usually classified as having straightforward pay tables with no bonus rounds or special features. A player can usually identify a classic slot machine simply by looking at it. They are designed to imitate the look of an electronic slot – the type you would usually see sitting in a Las Vegas casino! Classic Slots remain popular today and most have been enhanced so that they can be played at modern slot sites.
D is for… Deposit Bonuses – A type of bonus that can be found at almost all online casinos and slot slot sites are Deposit Bonuses. Slot sites will offer a bonus, usually in the form of bonus spins or wagering money to players who make a deposit on the site. Make a deposit and get a bonus, simple!
E is for… Expanding Reels – A feature of a growing number of video slots, Expanding Reels open up the way for more pay-lines and a greater number of ways for players to combine symbols, ensuring more ways to win.
F is for… Fixed Jackpot Slots – A fixed Jackpot Slot is exactly how it sounds. Most online slot machines have fixed jackpots unless they state otherwise.
G is for… Game Guides – Game guides provide you with all the information you need to know on your choice of online slot game. SlotsHawk has many slot guides for you to read about.
H is for… Hit Frequency – This refers to the frequency a slot machine gives a player a win in relation to the number of spins. Although slot machines are certainly reliant on luck, many players believe they can measure the Hit Frequency of a slot machine in order to discover a pattern and thus increase their chances of winning.
I is for… IGT – One of the largest and most well respected slot operators in the world, IGT has a long history in the iGaming world. IGT are the developers of well-known video slots such as Kitty Glitter, Wheel of Fortune and Siberian Storm.
J is for… Jackpot Slots – Amongst the most popular slot types, some Jackpot Slots are known as 'millionaire makers' due to their prizes. Some Jackpot Slots can rise up to and even surpass 1 million pounds. Jackpot Slots are able to grow their jackpots by having their players contribute a certain percentage of their spins towards the jackpot.
K is for… King of the Trident – In truth, we could not think of many slot related terms beginning with K. Nonetheless, King of the Trident is a fun slot that we recommend checking out!
L is for… Lines – Slot machine lines, also known as paylines, betting lines or winning lines are the combination of symbols that result in wins on a slot machine. For example, if you are playing a four reel slot machine, the payline will feature four symbols.
M is for… Megaways – Invented by Big Time Gaming and licensed out to lots of other slot providers, Megaways slots are arguably the most popular video slots in the UK. These are videos slots which have implemented the Megaways mechanic which allows the slots reels to increase allowing more paylines and hundreds of thousands of different combinations to win!
N is for… Numbers – Numbers are a common feature of a slot machine and make up the majority of slot symbols. On classic slot machines, the Number 7 was a regular feature. On modern day slots you can expect to find Numbers 9,10, J, Q, K and A.
O is for… One Armed Bandit – Around the world and in the USA especially, slot machines are known as one armed bandits. This is due to the side lever that came with the old-fashioned slot machines which resembled an arm.
P is for… Payout – This is the amount you are able to win when you hit a winning combination. The Payout tends to vary from slot to slot.
Q is for… Queen of Riches – Once again, we struggled to find a slots term beginning with Q.. so instead we decided to give you the best slot game beginning with Q – Queen of Riches. based on Queen Cleopatra, this slot comes with plenty of bonus features as well as remarkably nice aesthetics.
R is for… Return To Player – Commonly known as RTP, Return To Player determines the percentage of an online slot which is, in theory, Returned To The Player. For example, if an online slot has an RTP of 96%, for every £10 a player puts into the slot, they will, theoretically, receive £9.60 back. Of course, in reality whether a player wins or loses is dependant on numerous factors – luck included.
S is for… Scatter – A Scatter symbol is one of the primary slot machine symbols that slot players like to see. Scatters are designed to activate winning combinations. Scatters are also used to activate bonus rounds and trigger free spins rounds.
T is for… Three Reel Slots – This online slots term describes slots which only have three reels. Some players enjoy to play these slots as they give a more classic feel to the gameplay. A long time ago, all slot machines had only three reels.
U is for… Unique Reels – Some slot games may not display their reels in the traditional sense. For example, the reels could be displayed in a hexagonal shape.
V is for… Variance – Slot Variance, also known as slot volatility, is essentially how likely and how much a slot machine is likely to give wins. For example, slots which are high in Variance will not payout very often, but when they do, the rewards are likely to be high. At the other end of the scale, slots which are low in Variance will payout regularly but usually the wins will be less than their high variance brothers.
W is for… Wilds – WIld symbols enable winning combinations as they are allowed to stand in for other symbols. If a player is one symbol away from a win and a Wild pops up then the slot machine will turn the wild into whichever symbol is need to trigger a win.
X is for… XXXtreme Slingo – Online Slingo is the moulding together of the best features of online bingo and online slots. XXXtreme Slingo is a type of Slingo slot machine which we can highly recommend here at SlotsHawk.
Y is for… Yako Casino – One of our premium casino partners, Yako is a casino operated by L&L Europe which are, in turn, one of the most respected casino operators in the world. Licensed and regulated by the UK Gambling Commission, Yako comes highly recommended by the SlotsHawk team!
Z is for… Zig-Zag – This is a term created to describe paylines on multi-line slot machines. In past times, players could only hit wins if the winning line went straight or horizontally. Some modern online slots allow for winning lines to be zig-zagged.
Honourable Mentions
You thought you had made it to the end of the list? Think again! Here are some other slots terms that I figured deserved a mention.
C is for… Cashback – There are lots of UK casinos which offer daily, weekly and monthly Cashback to their players. Casino Cashback is where players receive a percentage of their casino spend. If you are interested in playing at such a casino, we suggest you to take a look at our Cashback Casinos.
F is for… Free Spins – One of the main goals of any slots player is to activate the Free Spins round. Free Spins are also offered as incentives by casinos to entice players into making a registration and deposit. If you are interested, we suggest taking a look at SlotsHawks' No Deposit Free Spins section.
M is for… Multiplier – A feature of almost all online slot machines, Win Multipliers are features which multiply your win by a certain amount. Multipliers can start at 2x, and can rise up to 100x your initial win!
M is for… Mobile Slots – Thanks to technological improvements, almost all slot games and slot websites can now be played via a mobile phone device. The latest slot games are actually specifically designed to be played on a mobile phone as more and more casino players play via their smartphones. If you are a mobile casino player, we suggest visiting our UK Mobile Slot Sites page.
R is for… Random Number Generator – All online slot machines (and land-based ones for that matter) are fitted with a Random Number Generator (RNG) technology. This technology will continuously generate numbers from one up to several billion hundreds of times per second. Online slot technology is completely random.
CONTRIBUTORS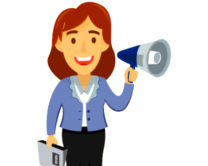 Greetings, I'm Yvonne Greenwood
Yvonne Greenwood is our talented writer. In the office she goes by the nickname 'The Machine' because of her ability to always smash out excellent and relevant articles for our readers at SlotsHawk.com.
Content writer since 2020