By Yvonne Greenwood | Expected reading time 1 min
Last Updated: November 1, 2021
Gambling companies across the United Kingdom will once again take part in the annual Safer Gambling Week, promoted by Safer Gambling UK. The initiative will witness hundreds of gambling websites in the UK dedicate a week to promoting safe gambling practices.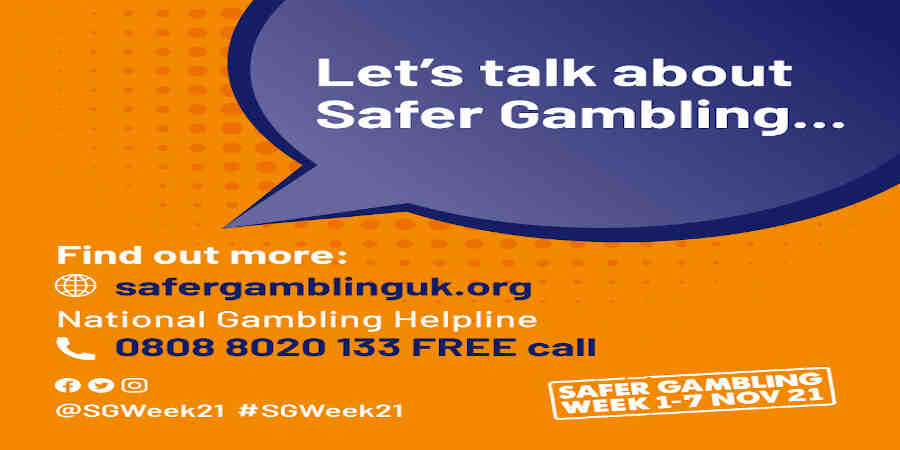 Safer Gambling Week 2021 is calling on all gambling operators to promote safer gambling. All of the major online gambling operators are taking part in the promotion.
SlotsHawk would like to join the rets of the gambling industry in promoting safer gambling in the UK. Our Editor in Chief Jean Prince said:
"It goes without saying that SlotsHawk promotes safe gambling all year round. However, the Safer gambling Week promotion is a chance for all operators to come together to ensure that gambling customers are protected and safe at all times.
"Furthermore, the promotion receives worldwide media attention and helps to ensure that gambling companies continue on the straight and morally correct track."
Safer Gambling Week 2021 is also being promoted by numerous EFL football clubs as well as sports teams from Rugby and Cricket. Famous football presenters including Jermaine Jenas, John Hartson and Rio Ferdinand have also pledged their support.
SAFER GAMBLING WEEK POINTS TO REMEMBER
There are six safer gambling points which the promotions would like to highlight and remind players to keep in their minds whilst they gamble:
Play smart… Don't chase your losses.
Remember… It's good to take a break.
Remember… Gambling is not a way to make money.
Remember… It's good to set yourself limits.
Ask yourself… Are you past your spending limit?
Remember… Friends and family are more important than gambling.
SLOTSHAWK PROMOTES SAFE GAMBLING
If you ever need any help when it comes to staying safe whilst gambling, please see our responsible gambling page which includes links to to professional help and advice services for UK gamblers.
November is also a busy week for slots developers. Here are the latest slot releases in November 2021.